Big Pete Writes In...
they graffiti on the wall it only took 72 hours to clean it WAY TO GO STANTON i am a home owner in Stanton
This is kind of a cool message. Some would say that Stanton was just doing its job. It is what they get paid to do, right? I think I'd enjoy life more if I received praise every time I completed a basic task without going over and above what I was already being paid to do or expected to do.
Talking about basic tasks, I wonder if the Sheriff's department took a picture of the graffiti within that 72 hour period? They must have. If our Sheriff's work an 8 hour shift and they patrol their area maybe two or three times a shift it would make one think that the graffiti was seen at least 20 times during this 72 hour period so there must be a photo.
My personal belief is that nobody working for our city cares but I could be wrong. I think this because if anyone really cared then a campaign sign like this one should have been removed or cleaned immediately rather than stay up for weeks with graffiti on it: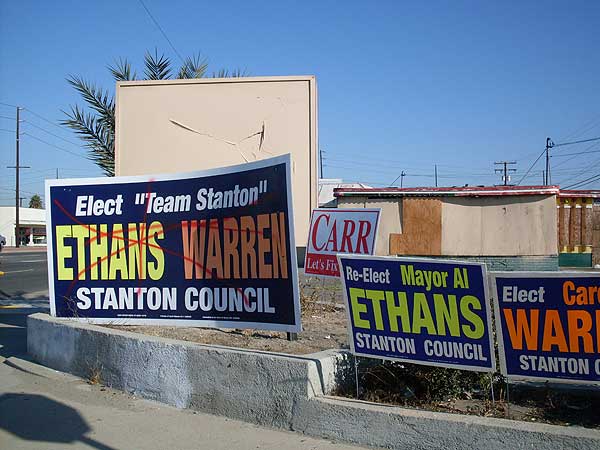 Looking at the condition of our city, most tax-paying residents wouldn't know that we have a graffiti removal program, we have code enforcement and our Sheriff's department claims to take photos of gang graffiti so it is easy to understand why Big Pete believes the city is doing such a great job for such a basic task that shouldn't have lasted 72 hours in the first place.