David Cadena loses mayorship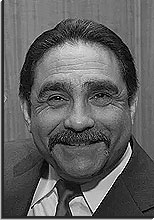 Stanton Council Member David Cadena served the shortest term on the Stanton city council out of any council member since 1993. Council Member Cadena was a planning commissioner before being appointed in 2005.


The City Council this week ousted Mayor David Cadena.

Cadena said it was because of his attempt to discuss enacting a prayer before meetings. Al Ethans, who had been the mayor pro-tem, took his place.

Cadena was the only dissenter in the 4-1 vote to oust him – an item placed on the agenda at the request of Councilman David Shawver, according to city documents.

"Why does David Shawver think he runs the city of Stanton?" said Cadena, who remains on the council and is up for re-election this year along with Ethans. "Is it time for a change? I think so. Is that why the good Lord is toughening me up? Maybe."

The council picks a mayor from the council members each December.

Cadena attributes his fall from the mayor's position to a long series of policy disagreements with Shawver that peaked when Cadena on May 13 suggested adding an invocation to council meetings.

According to city documents, Cadena's proposal was met with silence.

Cadena said that other council members called him before the May 13 meeting and urged Cadena to remove his prayer item from the agenda, because it was too controversial.

No comments were offered by any other council members during the May 13 meeting, Cadena said.

"I looked at them," Cadena said. "Silence. They would not look at me. Silence. It was disgusting."

Councilman Shawver declined to comment for this story. Council members Brian Donahue and Ed Royce could not be reached for comment.

Ethans said the decision to remove Cadena as mayor was an "overwhelming situation. …

"It was unfortunate, we're sorry it happened and he's going to stay on the council, and I respect that," Ethans said.

He said that he, for one, voted to oust Cadena as mayor because of the suggestion of adding prayers to council meetings was controversial.

"The mayorship has changed, that's going to stay," Ethans said. "Personality-wise, I think this can be ironed out."