Stanton - Hong Alyce Van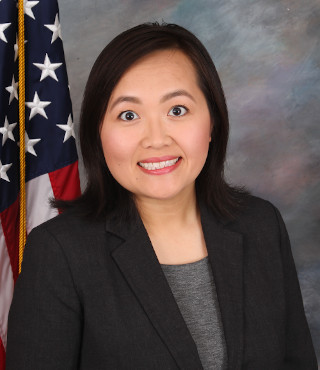 Alyce Hong Van was selected by the Stanton city council to fill a vacancy on the Stanton City Council and was officially sworn-in on May 14, 2019. Alyce served as a Planning Commissioner and a board member of the Stanton Community Foundation according to an OC Breeze article. She never ran for election before so it is unclear if she ever had an interest in the position.

Council member Alyce Van approved two taxes for our ballot on July 23, 2019 just months after getting appointed to the city council. Click here to see the local city tax work sheet and you'll see each household is already paying about $600 a year in local city taxes alone already!

Did you know because there were no other elections going on in the off-year (2019) our city council had to write a check for $133,500 to hold a special election in November 2019? Thanks Alyce!

This is what happens when a council member get appointed and has no understanding of our city's issues. They don't mind if we have to pay more and they are forgetting that we have been paying more for decades already.

During a time when we all know "water uncertainty" and more droughts on the way still city council Member Alyce Van votes in favor of a "321-unit multi-family apartment community" according to the Orange County Tribune (09/23/2020). Not to mention our entire area has been having electrical shut-offs over the past month along with Flex Alerts.... And the constant gridlock on our freeways. How can our council member Van approve more rental housing without improving our failed infrastructure first? Not to mention where will they find room for 2,100 parking spaces in such small area? It appears that Alyce Van is favoring expensive rental apartments instead of affordable housing.

Alyce Van has done nothing about the Stanton utility tax on tap water, cell phones, electricity, natural gas, ect.

In Stanton there is also a cable TV franchise fee, SoCal Edison franchise fee, lighting and landscaping fee, trash franchise fee, protective service fee... Who knows where all these fees came from since it's difficult to keep track of them all and too many times Stanton Residents we not allowed to vote on these fees.

Don't get me wrong, taxes are a good thing. They keep our local government going. But, Stanton has a very long list of "extra city taxes" that most cities in Orange County do not have. Many city taxes and fees we are not allowed to vote on. Something interesting is that Midway City and Rossmoor are nearby and similar in size and have almost none of these extra taxes so why do we?

Stanton businesses are gone which reduces employment opportunities for our community. We still have nearly the highest unemployment rate in all of Orange County and removing all of the local jobs to replace them with housing it not a good idea.

City Hall cannot be trusted with more of our money. Sorry but there is no real fiscal transparency. City Hall just spent more than $24 million over the past few years on parks but this huge expenditure is mysteriously missing from the Stanton budget! Go to the Stanton website and try to find it in the budget. And the huge pensions for our city and safety service workers are missing too! Go look for yourself. Tens of millions of our dollars unaccounted for.

So, at the end of the day, city council member Alyce Van is seeking re-election to the city council. Homelessness not fixed. We are still the only city in the area that does not put the city council meeting videos on the Stanton website. No plans for good jobs even with high continued unemployment. No plans to clean out the riff raff our major shopping centers like Walmart grocery or Food For Less. No plans to remove any of our extra taxes like our utility taxes or local city sales tax. No plans to fix our infrastructure and instead we are left with uncertainty of our water and electrical needs.